Marine
The IMO's target to cut annual greenhouse gas emissions from international shipping by at least half by 2050, compared with their level in 2008, is challenging for the shipping sector while indicating the adoption and integration of innovative energy efficiency solutions on ships. ORC and HTHP products of ThermoDraft are fully aligned with IMO's action plan constituting plug-in solutions of marine-dedicated designs.
The ORC solution adapted to ship
Heat is rejected mainly through the water-jacket of the main or auxiliary engines' cooling system, exhaust gases or lubricating oil. ThermoDraft's ORC engines are designed to extract this multi-source considerable amounts of heat and convert it into electricity, thus, increasing the fuel-to-power conversion efficiency. That, it is finally interpreted as fuel savings in the order of 3 to 4%, with a proportional CO2 emissions reduction.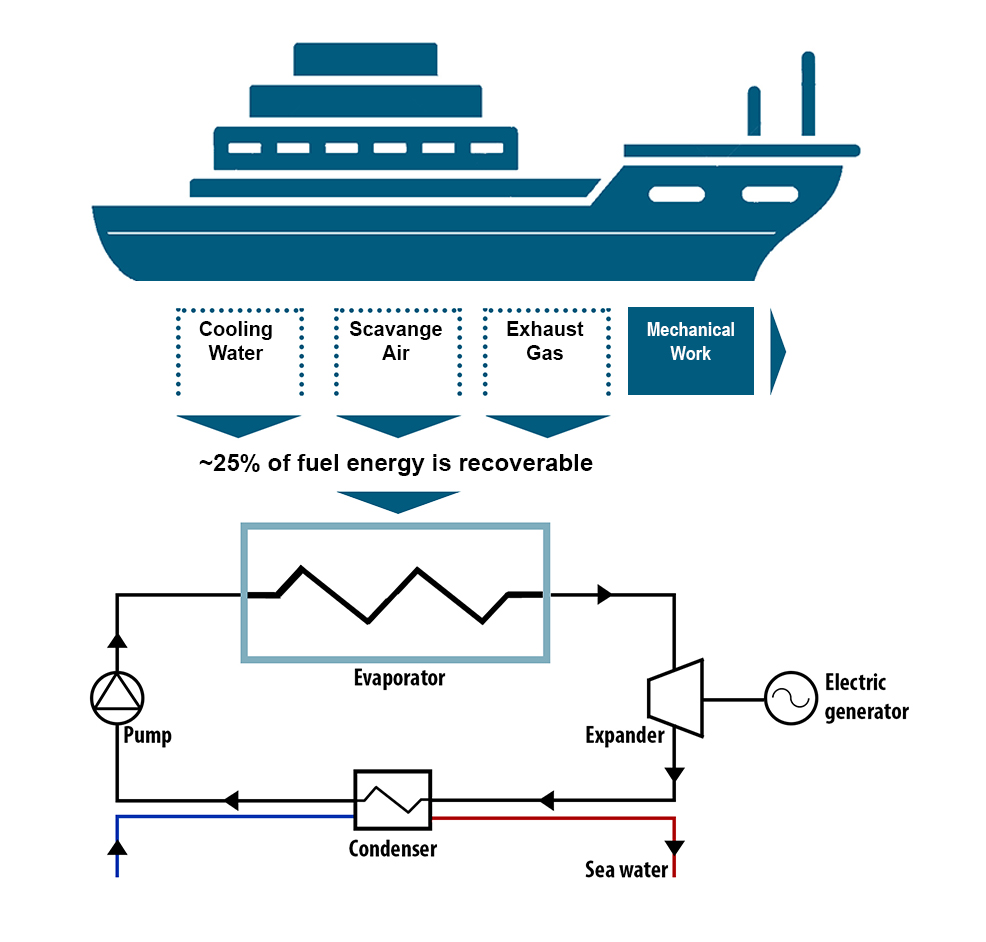 Energy efficiency
Products with improved performance leading to reduced fuel consumption and energy savings.
Reduced emissions
Compliance with IMO regulation and improved EEXI and EEDI
Reduced cost
ORC engines present high reliability, have low maintenance requirements, with short payback period
Approval in Principle
Certificate of Approval in Principle for Organic Rankine Cycle Unit by RINA
The HTHP adapted to ship
A number of marine oil-fired boilers, which provide steam for the heating services are installed into ships, consuming large amounts of fuel while generating significant amounts of CO2 emissions. ThermoDraft's HTHPs is the ideal solution towards limiting the operation the oil-fired-boiler or even fully replacing them, by recovering the heat wasted from the auxiliary engines at temperatures in the order of 80 to 90°C and then upgrade it up to 120 °C for low-pressure steam production.
Reference ORC
| | |
| --- | --- |
| Nominal electric capacity | 20 kWe |
| Design Temperature | 90°C |
| Expander | Twin-screw rotary semi-hermetic expander |
| Evaporator | Brazed plate heat exchanger |
| Condenser | Shell and tube heat exchanger with copper-nickel tubes for sea/salt water |
| Refrigerant | R1234ze(E) |